Events Calendar
NIAGARA FALLS ILLUMINATION
January - February The Falls Are Illuminated From Dusk Until 10:00pm And From May - December Until Midnight.
POP 2000 TOUR with Smash Mouth, Chris Kirkpatrick of *NSYNC, O-Town, Ryan Cabrera & LFO
OLG Stage at Fallsview Casino
June 1 at 8:30pm
Who says #Throwbacks are reserved for Thursdays? The Pop 2000 Tour delivers the TRL moments that will bring you right back to the early 2000s. POP 2000 TOUR features Smash Mouth, Chris Kirkpatrick of *NSYNC, O-Town, Ryan Cabrera and LFO
Comic Con
Niagara Falls Convention Centre
June 9, 10 and 11
Niagara Falls Comic Con is set to take place over three days on June 9, 10 and 11 2023! The event takes place just steps away from the majestic Falls and will feature more than 200,000 square feet of exhibitors, comic books, movie cars, cosplay contests, celebrity autographs and photo-ops, a video gaming arena, Falls Horror Fest and more.
Menopause The Musical 2: Cruising Through 'The Change'
OLG Stage at Fallsview Casino
June 13-18:
June 13, 14: 3:00pm
June 15: 8:30pm
June 16: 9:00pm
June 17: 3:00pm & 9:00 pm
June 18: 3:00pm & 7:00 pm
The hysterical sequel to the smash-hit Menopause The Musical® is finally here & it's premiering at Fallsview!
Five years after their chance encounter in a department store, we set sail with our beloved ladies for more hi-jinx on the high seas.
Cruising Through 'The Change', is a hilarious and heartfelt look at the joys of menopause and friendship — plus hot flashes, mood swings, memory lapses & more!
Join us on a trip of self-discovery, backed by a new soundtrack of toe-tapping parodied greatest hits from the 70s, 80s and 90s!
For our four ladies, menopause was not the end, but the beginning of a beautiful friendship, where love conquers all, and friendships never fail.
So come aboard for Menopause The Musical 2 - Cruising Through 'The Change' & set sail for another hit show, filled with nonstop laughter & song.
You'll absolutely love it!
Daughtry
OLG Stage at Fallsview Casino
June 21 at 8:30pm
Daughtry, one of the most visible and consistent Rock & Roll torchbearers of the 21st Century, has sold over 9 million albums and 16 million singles worldwide as well as selling out concerts across the globe. Their debut album, the self-titled Daughtry, was the top-selling album of 2007, producing 4 Top 20 Platinum-selling singles on the Billboard Hot 100. It was also nominated for 4 Grammy Awards and won 4 American Music Awards and 7 Billboard Music Awards including Album of the Year. The subsequent albums, Leave This Town, Break the Spell, Baptized and Cage to Rattle were all certified Gold and placed in the top 10 in the Billboard Top 200 Albums Chart. In 2020, Daughtry released their newest single, "World on Fire," which marked their return to their rock roots and the top of the Rock Charts in the US.
Santana – 1001 Rainbows Tour
OLG Stage at Fallsview Casino
June 24 at 8pm
Delivered with a level of passion and soul equal to the legendary sonic charge of his guitar, the sound of Carlos Santana is one of the world's best-known musical signatures. For more than 50 years, Santana has sold over 100 million records and has performed for three generations of concert fans worldwide. To date, Santana has won 10 GRAMMY Awards and three Latin Grammys. He won a record-tying nine Grammys for a single project for 1999's Supernatural (including Album of the Year and Record of the Year for "Smooth") as well as three Latin Grammys. He has also received the Billboard Century Award (1996), was ushered into the Rock and Roll Hall of Fame (1998), received the Billboard Latin Music Awards' Lifetime Achievement honor (2009), and was the recipient of the Kennedy Center Honors Award (2013). Among many other honors, Carlos Santana has been cited by Rolling Stone as #15 on their list of the "100 Greatest Guitarists of All Time." From Santana's earliest days as a groundbreaking Afro-Latin-blues-rock fusion outfit in San Francisco, Carlos has been the visionary force behind artistry that transcends musical genres and generational, cultural and geographical boundaries.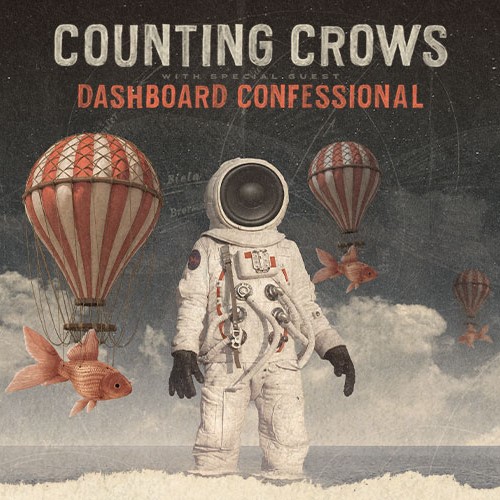 Counting Crows Banshee Season Tour '23 with special guest Dashboard Confessional
OLG Stage at Fallsview Casino
June 28 at 7pm
For more than two decades, the Grammy and Academy Award nominated rock band Counting Crows have enchanted listeners worldwide with their intensely soulful and intricate take on timeless rock & roll. Exploding onto the music scene in 1993 with their multi-platinum breakout album, August and Everything After, the band has gone on to release seven studio albums, selling more than 20 million records worldwide, and is revered as one of the world's most pre-eminent live touring rock bands.
Joining Counting Crows is an American rock band from Boca Raton, Florida, led by singer Chris Carrabba, Dashboard Confessional.
John Fogerty
OLG Stage at Fallsview Casino
June 30, 2023 at 8pm
John Fogerty is a true American treasure, one of popular music's all-time greatest singers, guitar players, and songwriters. His remarkable career began in his hometown of El Cerrito, California, soon earning massive popular and critical success with the one and only Creedence Clearwater Revival. After Creedence Clearwater Revival called it quits in 1972, Fogerty embarked on what would prove to be an equally impressive solo career. Among its many highlights are hits such as "Rockin' All Over The World," "The Old Man Down The Road" and "Rock And Roll Girls." Throughout his forty-five years, the songs written by John Fogerty continue to speak in a powerful way to generations of music makers and music lovers.