Events Calendar
NIAGARA FALLS ILLUMINATION
January - February The Falls Are Illuminated From Dusk Until 10:00pm And From May - December Until Midnight.
The Broadway Boys
Avalon Theatre at Fallsview Casino
April 3 - 6, 2023:
April 3, 4, 5 at 3pm
April 6 at 3pm & 8:30pm
The Broadway Boys is a collection of diverse male voices from the New York stage. Representing shows such as HAMILTON, WICKED, JERSEY BOYS, THE LION KING, THE PHANTON OF THE OPERA, LES MISERABLES, MAMMA MIA and many more, The Boys rearrange traditional musical theater tunes with elements of pop, funk, gospel and rock for an exciting new take on Broadways' greatest hits. The Broadway Boys are the first group of its kind, standing alone as the only touring group singing exclusively showtunes. Created in a workshop directed by TONY/EMMY/GRAMMY/Golden Globe-winning Billy Porter, music directed by OSCAR/TONY/GRAMMY-winning Justin Paul, and produced by Broadway's Jesse Nager, The Broadway Boys live show features explosive musical arrangements, biographical stories, and behind-the-scenes Broadway insight that only seasoned Broadway performers can deliver.
Harlem Globe Trotters
Meridian Centre
April 6 at 7:00pm
The Harlem Globetrotters 2023 World Tour is coming with games like never before! Your favourite Globetrotter stars are bringing out their amazing basketball skill, outrageous athleticism and a non-stop LOL good time. Join the Globetrotters as they go head-to-head against the Washington Generals who will stop at nothing to try and defeat the world's winningest team!
Pitbull
OLG Stage at Fallsview Casino
April 8 at 9pm
Cuban-American rapper Pitbull, born Armando Perez, toured large venues with labelmate Ke$ha in 2013 as he backed his seventh studio album, Global Warming. The album topped the U.S. rap chart and spawned the Top 10 hit "Feel This Moment" (featuring Christina Aguilera). The Miami-based star, who raps in both English and Spanish, has gained a reputation as a crowd-pleasing, suave performer, essentially serving as a great host who delivers the music his fans want to hear in concert. His live shows usually feature a few dancers, a band, and special guests who help him create a party atmosphere for the fans who scored tickets.
Terry Fator On The Road Again
OLG Stage at Fallsview Casino
April 13 at 8:30pm
America's Got Talent winner, Terry Fator, captures the audience's hearts and funny bones with his unique brand of entertainment that combines ventriloquism, singing, comedy, and breathtaking celebrity impressions. Terry's repertoire includes more than 200 celebrity voices, many of whom we see on stage along with the puppets who are his partners on stage. Fator enjoyed a record, 11-year run at his own theatre in the Mirage Hotel & Casino, having played in front of millions. His cast of characters includes Winston, the Impersonating Turtle; Emma Taylor, "the little girl with the big voice"; Maynard Thompkins, the Elvis Impersonator; Duggie Scott Walker, the annoying neighbor, and; a host of famous singers, past and present.
Dane Cook
OLG Stage at Fallsview Casino
April 15 at 9pm
American stand-up comedian and actor Dane Cook got his big break in 1998 when he appeared on Comedy Central's Premium Blend. Since then, he has won Comedy Central Stand-Up Showdown twice in a row and released six comedy albums, including Retaliation, which became the highest charting comedy album in 28 years. Known for his observational, shocking and sometimes dark comedy, Dane Cook is a show you don't want to miss.
Ruben Studdard & Clay Aiken: Twenty | The Tour
Avalon Theatre at Fallsview Casino
April 16 at 7:00pm
April 17 & 18 at 3:00pm
Ruben Studdard and Clay Aiken first gained fame in 2003 as they battled for the top spot in the second season of American Idol. Since then, both have built successful careers as singers, recording artists and stage and television actors. More recently, they appeared together on Broadway in Ruben & Clay's First Annual Christmas Carol Family Fun Pageant Spectacular Reunion Show. Their 2023 tour together celebrates the 20-year anniversary of their sensational run on Idol.
An Evening with Chris de Burgh – His Songs, Stories and Hits
Meridian Centre
April 22 at 7:30pm
Worldwide hit maker, Chris de Burgh is excited to be bringing his "An Evening with Chris de Burgh – His Songs, Stories and Hits" Tour across Canada. Fans can expect to hear a selection of songs from his brand new album The Legend of Robin Hood plus Moonfleet, Into The Light, Spanish Train and many other classic hits from an international career that spans 50 years. De Burgh's most iconic single, the chart topping The Lady in Red, remains to this day one of the most played songs on the planet and reached the #1 position in 47 countries. Out of his repertoire of more than 280 songs, De Burgh's other classic songs are staples on the radio: Don't Pay the Ferryman, Spanish Train, Patricia the Stripper, High on Emotion and A Spaceman Came Traveling speak to a generation of music lovers, who have rewarded him with sales of 50 million albums and sold out performances worldwide.
Niagara Falls 420 Expo
Niagara Falls Convention Centre
April 22 10am-5pm
This year's event will feature more than 30,000 square feet of all things cannabis, including; exhibitors, educational seminars, guest speakers, manufacturers, and more. North America's largest celebration of all things cannabis.
Carly Pearce
OLG Stage at Fallsview Casino
April 22 at 8pm
Fiercely rooted in the classics, the girl who left her Kentucky home and high school at 16 to take a job at Dollywood has grown into a woman who embraces the genre's forward progression. Confident in what she wants to say, this committed songwriter has resonated with her fans and caught the attention of music critics from Billboard, NPR, Rolling Stone and The New York Times. Carly is living her childhood dream and blowing doors open in country music with her PLATINUM-certified albums and awards for ACM's Single of the Year, CMT's Artists of The Year, ACM/CMA Female Artist/Vocalist of the Year and Grand Ole Opry member (fittingly invited by Dolly Parton).
The Monkees Celebrated by Micky Dolenz
Avalon Theatre at Fallsview Casino
April 25-27 at 3:00pm
Formed in Los Angeles in 1966 with Dolenz, Michael Nesmith, Peter Tork, and Davy Jones as the main performers, The Monkees were an American rock and pop sensation. They have been called the world's first boy band and are one of the best-selling acts of all time with more than 75 million records sold worldwide. This time around, to commemorate more than 50 years of music, Dolenz will be backed by a seven-piece band, performing hits such as I'm A Believer, Daydream Believer, Last Train To Clarksville, Pleasant Valley Sunday, (I'm Not Your) Steppin' Stone, That Was Then, This Is Now.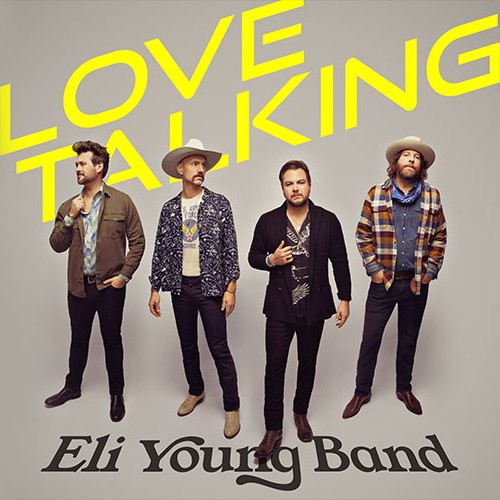 Eli Young Band
Avalon Theatre at Fallsview Casino
April 29 at 9pm
Since the band's formation as college classmates 20 years ago, the Associated Press has celebrated Eli Young Band as "a smart, relevant antidote" to overdone clichés in Country music. The band has amassed 14 Billboard charting singles, including four No. 1 hits "Crazy Girl," "Even If It Breaks Your Heart," "Love Ain't" and "Drunk Last Night," while also earning an ACM Award for Song of the Year as well as multiple Grammy, CMA, CMT, ACA and Teen Choice Award nominations. The musical band of brothers – Mike Eli, James Young, Jon Jones and Chris Thompson – play their own instruments, write their own songs and cling fast to their Texas roots. While selling out venues from coast-to-coast as strong headliners, EYB has also shared the stage with Rascal Flatts, Tim McGraw, Jason Aldean, Chris Young and Darius Rucker. sound has evolved over time, what they're good at has always been the same – organic, live-show focused Country dripping with authenticity and perfected in clubs, amphitheaters and stadiums from coast to coast. Don't miss them on the Fallsview stage as they bring their fan-favorite songs like Crazy Girl, Love Ain't, Drunk Last Night, Even If It Breaks Your Heart, and more.